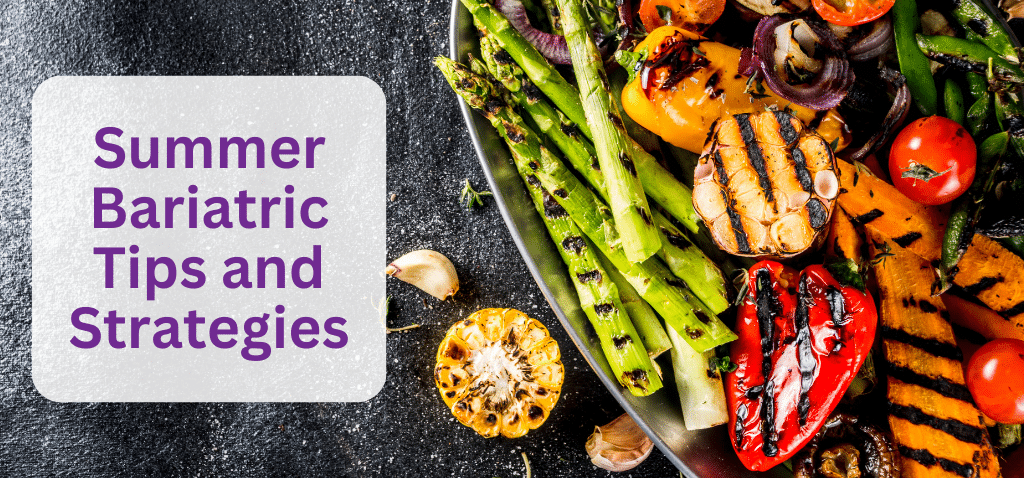 Meats
❖ Marinate lean cuts of meat ahead of time so they stay moist.
❖ Use fresh or dried herbs, olive oil and small amounts of fruit juice to marinate instead of store-bought marinades which usually contain added sugar and salt.
Vegetables
❖ Focus on the rainbow. You can make grilled vegetables on skewers or a rosemary branch, in a grill pan, in aluminum foil, or directly on the grill.
❖ Try whole grain buns or lettuce wraps with your grilled lean proteins.
Dessert
❖ The grill is not just for meats and vegetables; why not grill up some fruit to bring out their natural sweetness? Pear and pineapple are especially delicious!
Beverages
❖ Rehydration is especially important if the barbecue is outdoors on a hot day.
❖ There are plenty of alcohol-free mocktails you can make including fruit
and herb-infused waters. Examples include berries, lemon, cucumber, and mint.
General BBQ tips
❖ If there are endless options at the buffet, choose 3 or 4 of your favorites.
❖ Remember the bariatric plate method: fill half your plate with lean protein, 25% or more with vegetables, and 25% with starchy vegetables or fruit.
❖ If you are unsure about what the host is making, bring something with you to enjoy while there.
❖ Grilling does not have to *just* be in summer. It is a great year-round cooking method.